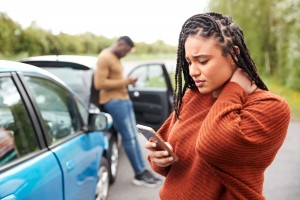 After a wreck in Tyler, TX, you may be left wondering how to file a claim to cover the expenses of medical bills, lost wages due to injury, or damage to your car.
As car accident lawyers in Tyler, TX, we have seen many car wrecks and accidents involving big rigs over the years. Fortunately, that has given us the experience to successfully represent victims in these motor vehicle accident cases so they can pay their bills and put the accident behind them.
Here are a few helpful lessons we've learned over the years:
What You Need At The Scene of the Accident

Before you leave the scene of an auto accident, be sure to get these things:
The contact information for the other driver
The other driver's insurance information
The contact information of any witnesses to the accident
Contact information for any responding officers

If involved in an accident with a truck driver, get the name of the commercial trucking company they work for
Photos of the scene of the car or truck accident, license plates, and damage to the vehicles

Remember, the other driver's insurance company is not on your side in the case of a car accident. They want to pay out as little as possible on a claim that you file, so they will ask lots of questions and require lots of information from you.
Having photos and contacts to pass along to your auto accident attorney will significantly help your case.
Filing Claims for Property Damage

You can file a claim for damage to your vehicle, of course, but also:
Personal belongings, like a laptop or camera in your car, or personal belongings attached to your car, like a tractor-trailer or bike rack
A car rental that you need while repairs are being made to your car.
Out-of-pocket expenses like calling an Uber to take you home from the scene of the accident
Hang on to your receipts and take photos of any property damage in or attached to the car. Your auto accident lawyer will know how to help you file these claims.
Filing Injury Claims
Personal injury claims are more complicated than property claims. You can sue for medical bills, lost wages due to time away from work, and mental pain and suffering. It is strongly recommended that you hire a licensed personal injury lawyer in your state to negotiate a settlement for you.
Insurance companies will try to settle your claim quickly, to pay medical expenses up to that point before you realize the extent of your injuries. They will pressure you to take quick cash instead of the compensation to which you may actually be entitled.
With a car or truck accident lawyer to negotiate on your behalf, you can trust that you're getting the compensation you deserve.
Choosing a Personal Injury Attorney in Tyler, TX
With many law firms in the Tyler area, it can be hard to know which one will represent you the best.
With Grant & Flanery Law Firm, you can trust that our attorneys are experienced and will knowledgeably advise you on your claim.
If you need a Tyler truck accident attorney or car wreck attorney, Grant & Flanery will be diligent to resolve your claim favorably so that you can put your car accident in the rearview mirror.